Contributors
Connect
In Print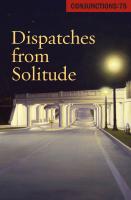 Dispatches from Solitude
Fall 2020
Edited by Bradford Morrow
Online
January 11, 2021
One's opportunities to be unhappy are

Unlimited.     Or limited, but only by

One's own imagination, which is powerful

But fragile, is defenseless,     but is limited

Only by things unseen.     As Bark Psychosis did it
January 4, 2021
As life encroaches on the dreaming
bedpost, you remember

a chip of ice you found in river
sludge, its sheen a mute witness

to increments of change
as lens and pure belief.
December 17, 2020
Even if we do have a self, all many of us want is to still the music, for a time. Transcend that individual identity, shuck off that convict walk of a mortal coil, to make a new beginning of a pulled-out piece of TV antenna with the glued-on plastic bead. To try and fool my parents and everybody else that I hadn't gone and broken something in the house, again. That I could save it, fix it, we could fix it, make it new. Trying to quench this thirst for annihilation with the secret machine. Alcohol, sex, love and work wrote the shanties of self before. I lost those full- throated lines. So, I walked the meditation labyrinths. And studied bugs. In silence. Alone.
advertisement
advertisement