Contributors
Connect
In Print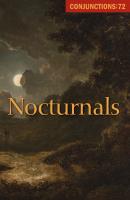 Nocturnals
Spring 2019
Edited by Bradford Morrow
Online
July 16, 2019
She wanders aimlessly through age, age
being a nutrient that washes from the cliff face
into the soil.

Absence a rhythm in the daily round, rows
carved into furrows in the ground or the folds
of the robe, not planted with seed.
July 9, 2019
He has already, over the course of months, designed his own sanctuary, his own adventure. It has yet to be built, but it will be an ordinary house, except for the cellar, where a secret tunnel leads far away into deep woods, to his real home, enormous and impregnable and peopled by machines to take care of all his needs.
July 2, 2019
We sipped a fumé blanc, much too good for us. Elsa, quite content with a weak strain of iced tea, happy to be here at all. We had not known from lively e-mails and upbeat telephone chats that her persistent cough had taken a turn to the prospect of dying.
advertisement
advertisement
Monday, October 28, 2019
2:30 pm – 3:30 pm