Contributors
Connect
In Print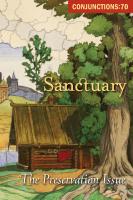 Sanctuary: The Preservation Issue
Spring 2018
Edited by Bradford Morrow
Online
May 8, 2018
You still eat roots the way each footstep
put together this hillside
as if it was once a pond and slowly

dried for the afternoon–a simple life
May 4, 2018
What an honor it is to welcome Richard Powers back to Bard College this afternoon after over a decade since he last read in the Innovative Contemporary Fiction Reading series.
May 1, 2018
This is one, hoping to exist. This is one, holding out against zero: its reign of absence, its absolute winter.

Down for the count, which needs or does not need our factories of charge.
advertisement
advertisement